Heritage Park Middle School, Mission BC
Marina and Daniel have been assisting schools create Mosaic Projects that develop a Sense of Belonging amongst the staff, parents and students, in cooperation with Vice Principal Mikel Brogan who wrote and had his thesis Published on this same theme. The projects take a considerable amount of time and during the process a great deal more than mosaics are achieved. People become attached to the projects they work on collectively and a sense of being a part of a larger environment is naturally developed
Heritage Park Middle School

The Journey begins
September of 2018 Mikel Brogan, Vice Principal of Heritage Park Middle School, contacted the Studio to ask if we would consider doing a large project for his school. We came into meetings with a Squamish carver Peter Gong who agreed to carve six salmon from red cedar to be included into the 6 windows. Marina and Daniel spent time with Peter in his studio to determine how the two disciplines would work together. Marina had worked quite extensively with Native carvers in the past so she was treading on a common and familiar ground. The artists figured out what the project would look like and went their own directions. By January of 2019, Marina and Daniel had created the first two panels for the project, representing Mount Baker and the Fraser River. 700 student art "stones" eventually filed the open space in the mosaic river.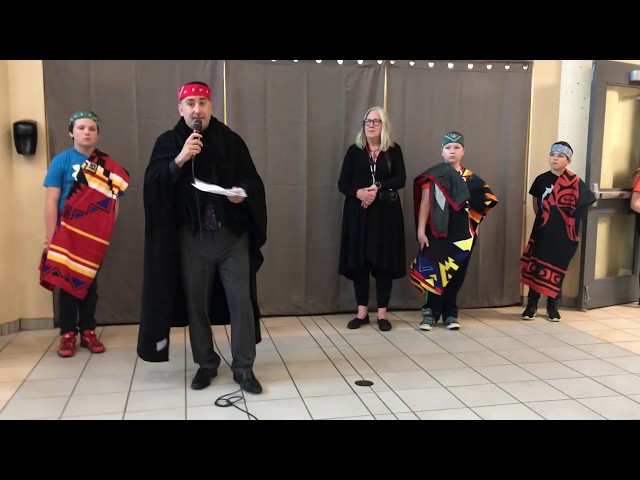 Mr. Brogan unveiling Mosaic River of Belonging

Heritage Park Middle School April 18, 2019



Take a Loo​k at the HPMS Student Mosaic beads and Peter Gong's wonderful Salmon
Although we have been hard at work on this glass project for Heritage Mountain School in Mission, the project really took off in March and April of 2019 with the inclusion of Student Art and Peter Gong's six carved salmon. Many Thanks to Marnie who embodies Love in all she does for students in this school.,
Above are random pictures of students and staff at work and/or enjoying the work in progress. What a wonderful time it has been creating this beautiful Glass Mosaic Project.
Pride in small achievements
Approximately 700 students and staff members of Heritage Mountain School in Mission took part in creating small art beads of glass that were included in the large glass art project installed in the foyer of the school. What a pleasure it has been to work with these beautiful and enthusiastic students!
The Salmon's Journey through Heritage Mountain Middle School Continues
Click this text to start editing. This simple title and text block is great for welcome or explanatory text. When writing, try to keep things down to a few lines at a time. Break up your content into different blocks to keep your page interesting.
Wee Bits of Beauty and Core Sentiments​
Each stone created by a student had a core value attached if not a very personal sentiment. In the end the core values of the school were evident: Courage, Kindness, Empathy, Equality, Pride, Diversity, Respect, Responsibility and above all, LOVE.
Marnie runs the Ab Ed Room at the school where she always provides food and Hugs at no cost. She is the ultimate Mother to any student who needs a hug, an ear, or a bite to eat. She is there to Love, Support and Guide and she is an inspiration to anyone who sees her in action with the many students that pass through her doors each and every day. Thank the Universe for wonderful people like you, Marnie! Heritage Park Middle School is thoroughly blessed to have you!
The Project was Completed on April18,2019

also Mr. Brogan's last day at HPMS and the unveiling Ceremony
Thank you to Peggy and elders Billy and Pricilla and Chief John Williams and all the Sto:lo people for helping create the beautiful honouring ceremony with drumming and singing and the Blanket Ceremony. It was so meaningful and heartfelt for all involved and will be remembered by all witnesses forever. Thank you. Osiem.
Unveiling River of Belonging April 18, 2019

Mr. Brogan's Reconciliation Speech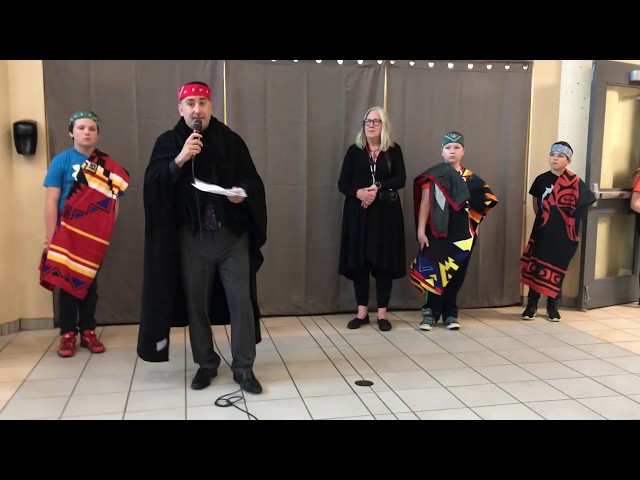 West Heights Community School, 2020
Click this text to start editing. This block is great for showcasing a particular feature or aspect of your business. It could be a signature product, an image of your entire staff, an image or your physical location, etc. Double click the image to customize it.
/